I decided to pull out the kool-aid. And dyed the last soaker using 2 orange, and one lemonade. I also knit another one, with bigger needles and more stitches. Then dyed it with 3 lime flavored kool-aid. I also crocheted using this (http://heavenlyangelsinneed.com/patterns/Yvonne's%20pants%20pattern.pdf) pattern. But it ended up seeming really small and instead of pants, are more like shorties. Probably because my baby isn't a newborn anymore.
Here's these 3.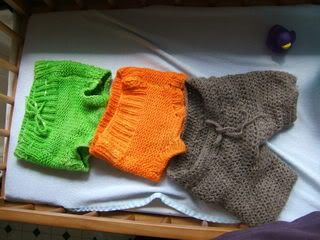 Now I'm working on some longies using Yarny Bits pattern. (http://community.livejournal.com/yarny_bits/89662.html) I don't like how the short rows leave holes. Next time I'm going to find a better way to do them. I've read online how you can "hide" them. But I don't want to switch my pattern now that I've gotten started on it.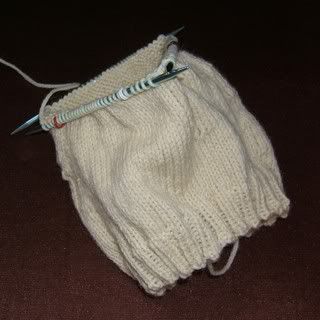 I've also been working on diapers. Found a new pattern. Rita's Rump Pocket. (http://www.jordanpaperarts.com/tana/diapers/RRP/Ritas-Rump-Pocket-Pattern.htm) I enjoy making these. My favorite is the one with the leaves. Inside was an old fleece sweater of mine. It's SO soft. I think I'm going to add touchtape to these though. I have a squirmy baby these days and even one pin through a lot of fabric just doesn't work these days.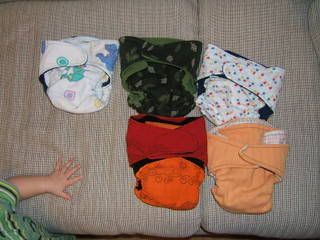 And lastly for now... my fun diaper. I just HAD to make a diaper from this material. I only had enough for a newborn diaper. So I did that, even though I don't know when I'll be able to use it now. I used the mamabird fitted pattern, but I turned this into a waterproof pocket. It had PUL hidden layer and blue flannel on the inside. I don't care for the way the touchtape sewn on, but otherwise, I love this diaper! I learned to sew the elastic on the seam allowance instead of the diaper. Then if you don't encase it, it rolls nicely outwards. And here I thought I didn't have time for sewing anymore... :)