Here's a view of the latest fitteds that I've made. I used the mamma bird pattern. Which is the first diaper pattern I made. I made the wings bigger, and used wider touch tape. The result turned out much better than the first time. Must be from all those diapers I've made. :) The white terry cloth diaper I didn't use any velcro. Will pin or snappi it on. The floral print (the one dh says looks like an army diaper) I serged instead of turn and topstitch. I like the way it turned out, except for the wings. Need some more practice going around corners there.
The orange diaper is so cute, I had to post a pic of both the inside and out. The orange is an old shirt of mine I was going to give away, and the inside was some flannel I thought would never have looked nice or match in a diaper...It's hard to see, but in between the lines of brown, there are also lines of orange, perfectly matching the outside of this diaper.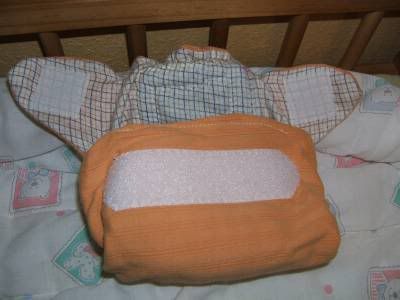 It's been so much fun making these fitteds. More time and work than the waterproof pockets, but the colors are so bright. It makes sewing diapers so much more fun that making 10 diapers that all look the same... (and what a cute baby Joel will be wearing all these different diapers...) too bad he'll grow out of them so fast..