I've strayed a bit from making diapers for a while. Just because all my diaper stuff is not home and I am. :D I made a fleece sling using the pattern from http://www.sleepingbaby.net/jan/Baby/pouch.html. The first one I made was a little too small. Didn't have a measuring tape, so I winged it. But it fits my super skinny husband nicely. So I purposely made the next one too big. It is a little too big, but figuring that I'll be wearing it in the middle of winter with heavy clothes, it should fit just right.
Here's a pic of the sling. I'm by myself now, so I couldn't get a pic with me wearing it. Maybe another time...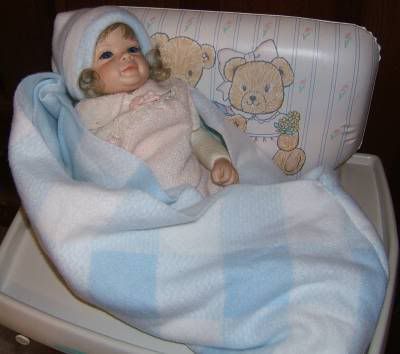 I also found this really easy hat pattern on http://www.carewear.org/patterns/sew/sewing.cfm?pid=_p46_fleece_hat.cfm. It gave the size dimensions for a fullterm newborn, so I made my own pattern and have made hats with what little material I have on hand. It is to be made with stretchy fabric. You can see in my sling picture, I made a matching hat. I also made a red hat with sweatshirt material. But it didn't stretch like I thought it would, and can't get it on any of my dolls. I had an old pair of shorts that I cut up and turned into a hat as well. I had to cut two pieces and serge together instead of cut on the fold. It turned out just fine anyway. It was super stretchy, and fits beautifully. Not as thick and warm as the fleece, but just right for a newborn's daily wear. Going to have to get some cute knits if I can find any.
Here's my hats...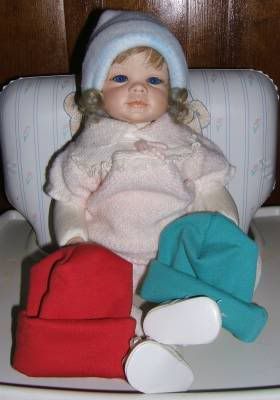 Joel is going to have WAY too many hats. He's not going to be able to wear them all..as many as I've made, between crochet and now this super wonderful sewing pattern.