I finally finished my mediums. Talk about cutting it down to bare wire. I am glad that they are all done before Joel is here. I still have other things to sew. But at least everything from here on out is for fun, not so much necessity.
Here are all the ones I made....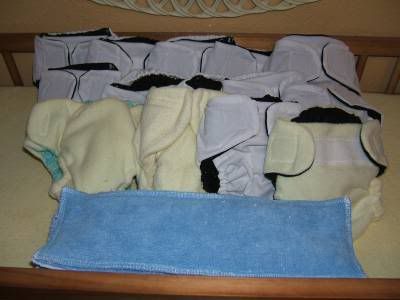 I've also felted a bum sweater for smalls. I have an idea of using terry towels and my soakers inside these until he fits into my pockets. A way to save $$ by using what I already have... I think I may need to make a little bigger though, the terry towels are a little bulky... But I tried it on a fitted I made earlier, perfect fit. I made this a 14 inch equalateral triangle. On the doll it is over the mamabird fitted diaper. Thinking of making a few of them if I have time. I don't care for fitted's too much, but for a newborn, it may be good to have some on hand.